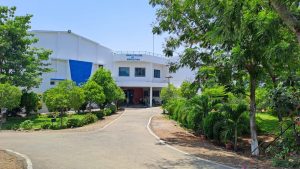 About College:
Welcome to Bajaj College of Agriculture, Pipri-Wardha! Shiksha Mandal, Wardha, a Century-Old Institution of Nationalistic, Values based, Quality Education, established it in 2003. We are a leading 'A' Grade Institution dedicated to providing students with a comprehensive education in the Field of Agriculture.
Our college offers a B.Sc. (Honours) Program affiliated to Dr. Panjabrao Deshmukh Agriculture University, Akola, a State University in Maharashtra. It is designed to equip students with the knowledge and skills necessary to succeed in the agricultural industry. Whether you are interested in Crop Production, Soil Science, Botany, Horticulture, Entomology, Animal Husbandry, Agricultural Engineering or Extension Education, we have a program that will suit your needs.
Our Faculty Members are experts in their respective fields and are committed to providing students with the highest quality education. They are passionate about agriculture and are dedicated to sharing their knowledge and expertise with the next generation of Agricultural Leaders.
In addition to our Academic Program, we offer a wide range of experiential learning opportunities, including RAWE, Modules, Internships, Research Projects, and other hands-on experiences. These opportunities allow students to apply their classroom learning to real-world situations and gain valuable practical skills.
Our campus is home to state-of-the-art facilities, including Digital Library, Research Labs, Greenhouses, which provide students with access to cutting-edge technology and equipment. Moreover, we are the college with Training and Placement Cell, Language Lab and Computer Lab which cater the soft-skills to our students.
At our Agriculture College, we are committed to fostering a vibrant and supportive community of students, faculty, and staff. We believe that a strong sense of community is essential to the success of our students and so we are to provide a welcoming and inclusive environment for all.
Considering our college as your Educational Institution of Choice, we look forward to welcoming you to our community!